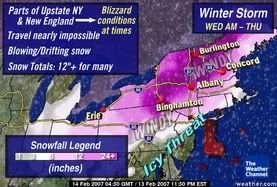 We're the really dark purple part. The 12 inches or more area.
The schools closed yesterday in anticipation of today.
If you go to weather.com, it seems that our heavy snow warning has turned into a
blizzard
warning. Snow accumulation of a foot or more. I guess you know it's bad when the grocery store actually has lines. This would be more exciting in a fun way if Doug didn't have to go to work today.
I guess we won't be going out for dinner tonight! Hopefully on Saturday. Sobo leaves next Tuesday and I have no idea what we're going to do without her. Hopefully, we won't be sending her back with a cold or flu!
Yesterday, Doug and I visited the public school, and you know what? It was really cute. It was very safe. It seems like a really creative, fun environment. We liked the principal. I don't know what I was expecting, but we were really happy with what we saw.